Stairwell Posts
The Hacketts Safety Stairwell Post provides a quick and easy way to create temporary barriers in stairwells, landings and other hazardous areas.
The Hacketts Stairwell Posts are constructed from quality steel proving a strong and secure temporary barrier post allowing conformity to Health & Safety in construction sites.
Stairwell Posts are available in 3 variants:
- Corner Post with Base Plate
- Centre Post with Base Plate
- Centre Post with Stringer

Specification:

Upright 30x30x2mm box section x 1070m
Base 130x130x6mm with corner fixing holes
Support Hooks 30x5m with fixing holes
Black Plastic End Caps
Powder Coated in Red as standard, your corporate colours available
Timber rails up to 40mm thick can be used or in conjunction with the Hacketts Stairsafe Handrail Kits.
Can be made to customer specifications depending on stairwell dimensions.
S.I.G Approved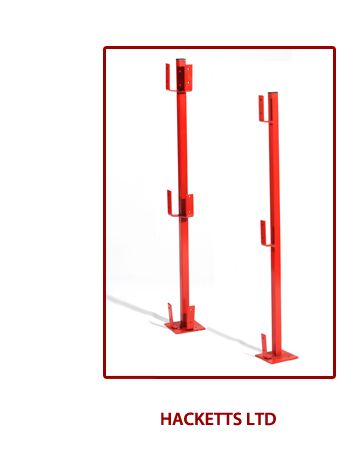 Hacketts Ltd of Dudley - Quality Construction Products - Providing a Professional Fabrication Service - Call 01384 240325.